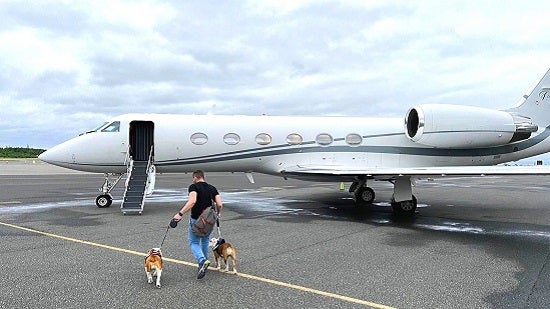 Due in no small part to the very limited commercial airline capacity for pets to fly in the hold of larger aircraft, more and more owners are turning to chartering private jets to transport their beloved companions. Air Charter Service has seen a significant rise in the demand for flying pets with them on passenger aircraft – including trans-Atlantic ride-sharing for owners' of cats and dogs.
Andy Christie, ACS's Group Director of Private Jets said: "Pets flying on jets is not a new thing, but we seem to have seen more and more with the various lockdowns around the world over the course of the pandemic. Every week we get requests for private jet charters from clients wishing to travel with, or be reunited with, their furry companions.
"A new trend that we are seeing, however, is ride-sharing pets on private jets which, of course, splits costs. This month alone, we have a flight from Asia to the UK with 10 animals and their owners, as well as a charter from New York to the UK with several dogs, a couple of cats and their owners, with a flight planned in the opposite direction in a couple of weeks.
"We see this kind of consolidation in our cargo division, with many freight forwarders combining their shipments onto one aircraft, but this is the first time it has happened in private jets. Owners are looking to fly with their beloved animals when travelling, with some of these clients relocating permanently, and this has proven to be a relatively cost effective way of transporting their pets."