The fastest private jets in the world: past, present and future - A comparative analysis
Fastest private jet in the world (Cessna Citation X+)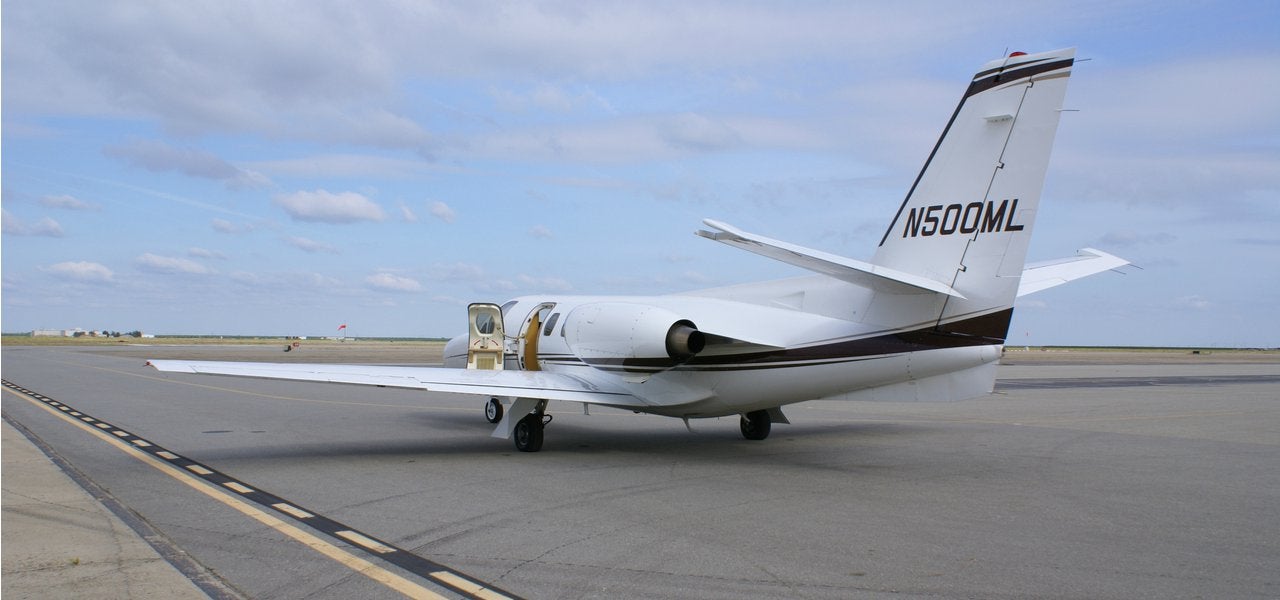 The Cessna Citation X+ is the fastest private jet in the world. With a top speed hitting Mach 0.935, it's the closest a private jet has ever come to breaking the sound barrier [1]. Private jets aside, the fastest commercial aircraft in history is the Tupolev TU-144, which flew at a supersonic speed of 1503.848mph; while the NASA X-15 is the world's fastest human-crewed jet with a top speed of over 4603.61mph . Talking of extraterrestrial speeds, the Parker Solar probe is considered the fastest spaceship with an expected top speed of approximately 430000.649mph during its flight towards the sun, meaning it could fly from New York to Tokyo in under a minute.
Record-holders for speed closer to the ground include the Hennessey Venom F5, the fastest car in the world with a top speed of 301 mph or approximately Mach 0.392. The fastest bullet, made by Remington Arms, travels at up to 2,826mph or approximately Mach 3.68; and the Shanghai Maglev holds the record for the world's fastest train, hitting a speed of 267 mph or Mach 0.348. Tesla's Roadster electric car has an estimated top speed of 250 mph (Mach 0.325); while the fastest Hyperloop test speed achieved is 290mph (about Mach 0.377) in a competition organized by SpaceX [2]. The fastest helicopter, Eurocopter X, can reach 293 mph (Mach 0.382), and the world's fastest cruise missile, BrahMos, can reach a speed of Mach 7.
Speed comparison between fastest private jets and other high-speed movers
| Object | Top Speed (Mach) | Ranking | Manufacturer |
| --- | --- | --- | --- |
| Cessna Citation X+ | 0.935 | Subsonic | Cessna |
| Tu-144 | 1.96 | Supersonic | Voronezh Aircraft Production Association, Tupolev OKB |
| Boeing 787 | 0.85 | Subsonic | Boeing |
| X-15 | 6.70 | Hypersonic | North American Aviation |
| Hennessey Venom | 0.392 | Subsonic | Hennessey Performance Engineering |
| 17. Remington | 3.68 | Supersonic | Remington Arms Company |
| Parker Solar Probe | 560.43 | Hypersonic | NASA |
| Shanghai Maglev | 0.348 | Subsonic | SiemensThyssenKrupp |
| Hyperloop | 0.377 | Subsonic | SpaceX |
| BrahMos | 7 | Hypersonic | NPO DRDO |
| Eurocopter X | 0.382 | Subsonic | Airbus Helicopter |
Top 10 fastest private jets in the world
From the table above, it's clear the Cessna Citation X+ measures up favorably to some of the fastest methods of consumer travel. But how does it compare with other private jets' top speeds? Here we take a look at the world's top 10 fastest private jets.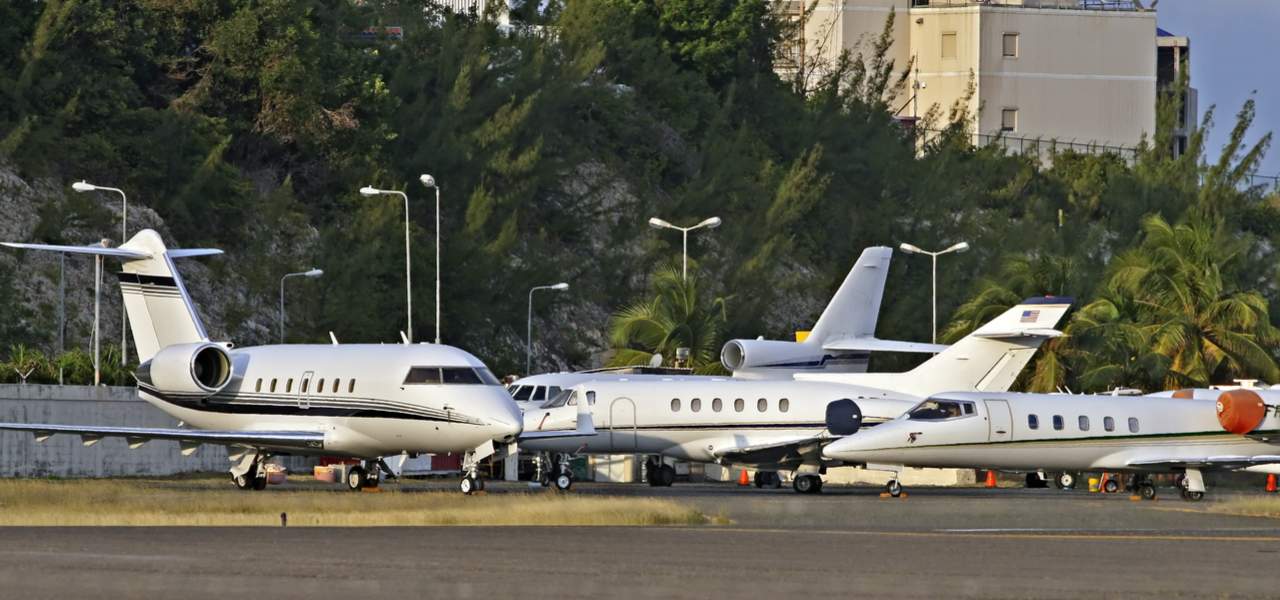 1. Cessna Citation X+
This modern marvel built by Textron Aviation has a maximum range of 3889.635 mph and a load-bearing capacity of 36,600lbs [3]. However, these excellent features come at a cost – the estimated price for a new Cessna Citation X+ is around $23 million.
2. Gulfstream G600/G500
Gulfstream Aerospace Corporation, a subsidiary of General Dynamics, manufactures the G600/G500, which has a maximum operating speed in the range of Mach 0.925 [4] and capacity for 18 passengers along with one or two crew-members. It sells for about $53 million; around three times the price of the Cessna Citation X+ thanks to its greater takeoff weight (99,600lbs) and wider maximum range (5,000nm or 9,200km).
3. Cessna Citation X
The world's third-fastest private jet reaches a top speed of Mach 0.92 [5] and can accommodate 13 people, including two crew-members. It boasts a maximum range of 2,890nm or 5,686km and a maximum takeoff weight of 36,100lbs. Surprisingly, though, its price is the same as the faster Cessna Citation X+, due to higher production costs.
4. Dassault Falcon 7X
Next on the list is French company Dassault Aviation's Falcon 7X, which operates at a maximum speed of Mach 0.90. With 12 passengers and two crew-members on board, the jet can travel a maximum range of 5,950nm or 11,019km and carry a maximum takeoff weight of 70,000lbs [6]. Buying a Dassault Falcon will set you back $54 million.
5. Gulfstream G650ER
The G650ER has the widest range of all of our fastest private jets – 7,500nm [7]. The fifth-fastest private jet in the world can achieve the same speed as the Dassault Falcon 7X. It's ruggedly built for maximum range, which is reflected in a heavy takeoff weight of 10,300lbs, despite its maximum capacity being limited to 10 people.
6. Bombardier Global 6000
The Bombardier Global 6000 is a large-cabin business jet that can fly with 19 passengers and four crew-members on board. Its speed and range are comparable to other fastest jets – its top speed is Mach 0.89 and it ranks third for its maximum range of 6,000nm or 11,112km [8]. This is one of the most expensive private jets available today, manufactured by Bombardier Aerospace in Canada for a selling price of $73 million.
7. Gulfstream G550
Another creation of General Dynamics, the Gulfstream G550 sits in seventh place with a maximum speed of Mach 0.885. Two onboard engines make the jet adequately powerful for carrying 19 passengers and two crew-members with a maximum takeoff weight of 9,100lbs, while flying a maximum range of 6,750nm or 12,501km. To own the jet, a customer needs to spare $62 million.
8. & 9. Dassault Falcon 200LX and 900LX
The last three entries on the list have comparable features, with the joint eighth- and ninth-placed aircraft built by Dassault Aviation. The Falcon 2000LX and Falcon 900LX both have a top speed of about Mach 0.85 and range about 4,000-4,750nm. Although the 2000LX can carry 19 onboard passengers and two crew-members compared to 10 passengers and two crew members on the 900LX, the price of the latter is higher ($43 million instead of $33 million) due to its superior build quality, wider range and greater takeoff load.
10. Cessna Citation Longitude
Textron Aviation's Cessna Citation Longitude closes the list with a maximum operating speed of 0.84 Mach, a range of 3,500nm and a takeoff weight of 39,500lbs. It can carry a maximum of 12 people onboard, including two crew members, [9] and costs about $27 million.
If you'd like to know more about the speeds of some of the larger private jets available, you can find out all you need to know in this article about the fastest commercial airliners in the world today
Table: Top 10 fastest private jets in the world
| Rank | Top Speed (Mach) | Price (millions USD) | Weight (lbs) takeoff | Model | Manufacturer | Max Distance (nm) | Country |
| --- | --- | --- | --- | --- | --- | --- | --- |
| 1 | 0.935 | 23 | 36,600 | Cessna Citation X+ | Cessna Textron Aviation | 3,460 | United States |
| 2 | 0.925 | 65 | 99,600 | Gulfstream G600/500 | General Dynamics Gulfstream Aerospace | 5,000 | United States |
| 3 | 0.92 | 23 | 36,100 | Cessna Citation X | Cessna Textron Aviation | 2,890 | United States |
| 4 | 0.90 | 54 | 70,000 | Dassault Falcon 7X | Dassault Aviation | 5,950 | France |
| 5 | 0.90 | 27 | 103,600 | Gulfstream G650ER | General Dynamics Gulfstream Aerospace | 7,500 | United States |
| 6 | 0.89 | 73 | 98,100 | Bombardier Global 6000 | Bombardier Aerospace | 6,000 | Canada |
| 7 | 0.85 | 62 | 91,000 | Gulfstream G550 | General Dynamics Gulfstream Aerospace | 6,750 | United States |
| 8 | 0.85 | 33 | 42,800 | Dassault Falcon 7X | Dassault Aviation | 4,000 | France |
| 9 | 0.84 | 43 | 49,000 | Dassault Falcon 900LX | Dassault Aviation | 4,750 | France |
| 10 | 0.84 | 27 | 39,500 | Cessna Citation Longitude | Cessna Textron Aviation | 3,500 | United States |
From the above table, we can see that private jet prices are affected by many factors including speed, range, size, takeoff load, build and manufacturer. The next section sheds some light on the historical timeline of private jet design, which will help in understanding the development phase of the private jet industry.
Historical timeline: the fastest private jets (1980 to present)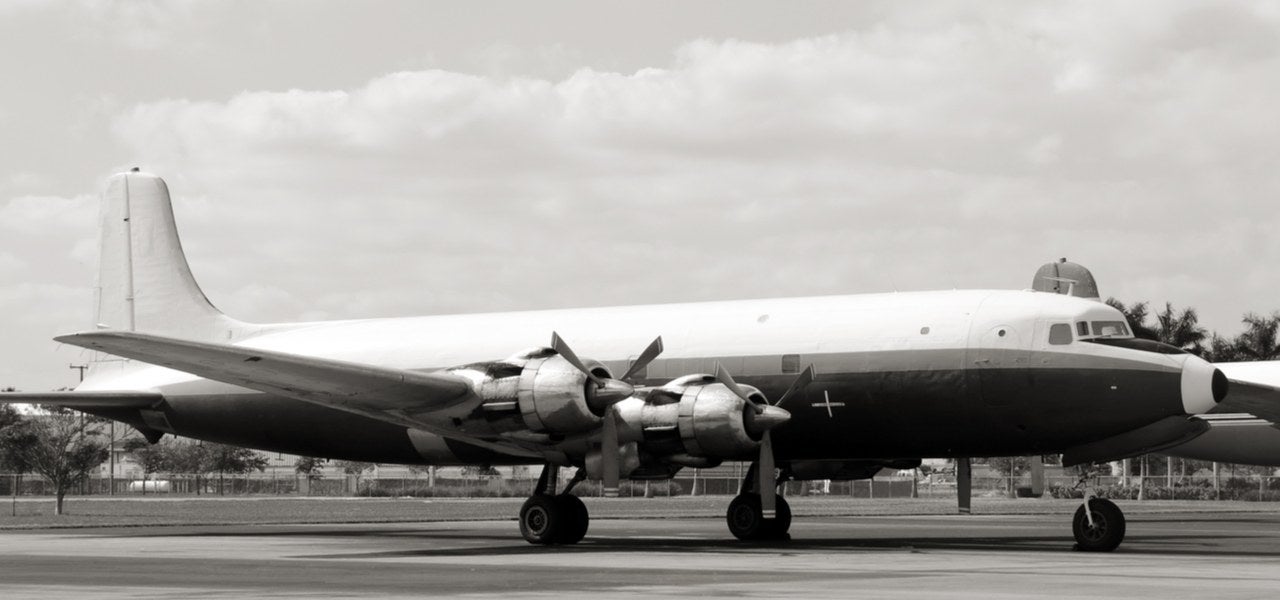 Although the history of the private jet can be traced back to the 1950s and 1960s, we have focused on the modern era that is characterized by the rapid and dynamic development of structural, electrical and mechanical jet design.
Dassault Aviation's Falcon 900 was one of the first modern private jets, introduced in 1984, and the unique build of the time is still in operation today. Inspired by the jet's popular reception, the company launched the Falcon 2000 in 1992, which also gained a good reputation among customers. [10]
The aviation industry's next speed breakthrough came with the Cessna Citation X. Textron Aviation began developing the uniquely designed jet back in 1990 [11] and it was first sold commercially in 1995 [12]. In response to positive customer reviews and widespread acceptance, the company built 338 units before announcing the end of production in 2018, with an estimated 309 units still operating around the world [13].
Bombardier Aerospace began developing the Global Express series in 1991 and launched it in 1993, with the first aircraft flying in 1996. The Global Express 6000 is the fastest in the series. An advanced version was announced in 2003 and entered service in 2006.
Dassault Aviation introduced the Falcon 7X at the Paris Airshow in 2001, before its first commercial flight took place four years later. FAA and EASA certifications were obtained in 2007.
General Dynamics launched the Gulfstream 550 in 2002. Powered by two Rolls-Royce engines, the jet has a range of 6,750nm and a top speed of Mach 0.885. In 2009, the company introduced its fastest jet: the Gulfstream G650, which uses state-of-the-art technology to create a luxurious onboard experience. Over 300 units have been built and sold across the world to date and it's currently the second-fastest private jet in the world.
Capitalizing on the success of the Cessna Citation X, Textron Aviation introduced the Cessna Citation X+ as the world's fastest private jet in 2012; a title it still retains today. Commercial production of the jet began in 2013, with 27 units operational worldwide so far.
The Gulfstream G600/G500 were unveiled in 2014 in response to growing consumer demand for greater cabin space and faster cruise speeds [14], with improved fuselage and wing designs. An extended range version of the Gulfstream G650, the G650ER, was also launched, offering improved fuel efficiency and extended range with a heftier price tag.
The development of the Cessna Citation Longitude was announced in 2012 and the first flight of this revolutionary midsize aircraft took place in 2016. [15]
Summary of historical timeline of fastest private jets
| Model | Date of Introduction (Year) | Top Speed (Mach) |
| --- | --- | --- |
| Dassault Falcon 900 | 1984 | 0.87 |
| Dassault Falcon 2000LX | 1992 | 0.92 |
| Cessna Citation X | 1995 | 0.92 |
| Bombardier Global 6000 | 1996 | 0.89 |
| Dassault Falcon 7X | 2001 | 0.90 |
| Gulfstream G550 | 2002 | 0.885 |
| Gulfstream G650 | 2009 | 0.85 |
| Cessna Citation X+ | 2012 | 0.935 |
| Gulfstream G600/500 | 2014 | 0.925 |
| Gulfstream G650ER | 2014 | 0.85 |
The next section discusses the history of private jet development and the implications of various events on the overall progress of the industry.
A brief history of private jet development
Private jets have become popular in recent years as globalization leads to high-level business executives, celebrities and world leaders traveling across the world more and more frequently. Private jets are undergoing a period of rapid growth to keep up with the increased demand for speed, comfort, cost-effectiveness and efficiency. This is a far cry from the slow progress of the industry's early days, when demand was low and technological advancements poor.
A rapid surge in military jet technology accelerated the development of early private jets, which strongly resembled military fighter jets. The Learjet 23 can be considered the first proper private jet, although other versions such as the Lockheed JetStar and the North American Sabreliner Jetstar had flown much earlier. With a maximum speed of 561 mph and a range of 1,830 miles, [16] its 1963 unveiling made its predecessors pale by comparison; in fact, it was so popular that "Learjet" became a generic word for private jet travel among celebrities and top executives. [17]
The Learjet 23 redefined the experience of business jet travel, providing speed and efficiency with a design and structure heavily influenced by military jets such as the FFA P-16 proposed Swiss fighter jet [18]. It had a capacity of four onboard passengers and was nimble and easy to maneuver; however, the first prototype crashed beyond repair following an engine failure during a landing simulation [19]. Following in Learjet's footsteps, competing manufacturers began designing their own private jets.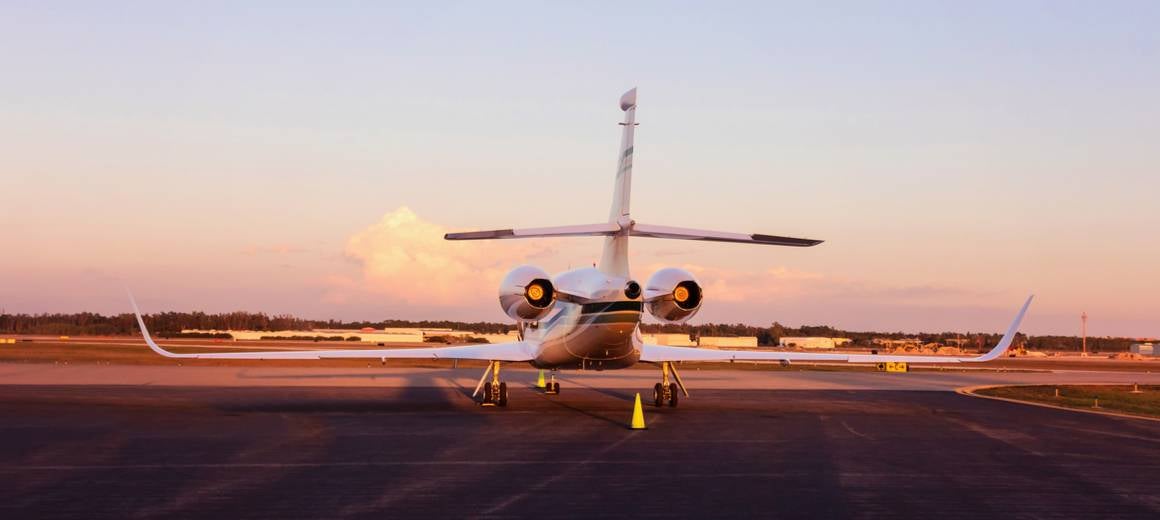 Dassault
In 1963, Dassault Aviation introduced the Falcon 20 as early competition to the Learjet 23; a twin-engine plane heavily inspired by the company's experience in designing and producing military aircraft [20]. The Falcon 20 had a maximum capacity of 12 passengers, could cruise at speeds of 417 knots and had a maximum range of 1,920nm. Originally designed as a business jet, it gained popularity among business travelers but was also used in other sectors such as medical evacuation and rescue services – the U.S. Coast Guard operated several units [21] and FedEx used them to ferry cargo to customers across the United States.
The next generation of Dassault private jets descended from the success of the Falcon 20, [22] with subsequent models like the Falcon 7X. In a pivotal moment in the growth of private aviation, competition to conquer the market saw a surge in aircraft design and jet engine development as manufacturers raced to go faster, higher and further – performance parameters that still define the industry today. Demand for more exclusive transport led to the introduction of the Falcon 10, which had a smaller capacity (six passengers plus a crew of two), a higher top speed of 563.882 mph and a better range of 1,620nm. [23]
Following the success of the Falcon 10, the Falcon 50 [24] first flew in 1976, in response to growing demand for an aircraft that could fly coast-to-coast across the vast United States. The Falcon 50 was the only jet that could repeatedly achieve transoceanic flight while following the strict public transport regulations of the time. The aircraft featured improved wing designs such as supercritical aerofoil and was powered by three engines in tri-jet configuration, which enabled a maximum range of 5,830km and a maximum speed of 540.593 mph [25]. Further improvements to the Falcon 50 were unveiled in 1995 with the Falcon 50EX, which boasted a range of 5,695km and a maximum speed of Mach 0.75. [26]
Featuring minor modifications to the Falcon 50's design, Dassault's next offerings, the Falcon 900 and 2000, were designed to meet the growing demand for passenger comfort and increased range [27]. The new generation of Falcon jets featured a wide body and higher cabin ceiling, while the amazing combination of supercritical wings and tri-jet engine enabled them to travel at a higher speed with greater range.
Computer-aided design and analysis, carried out using computer software CATIA, helped to create better designs with remarkable development in performance parameters [28]. This, together with 3D design and avionics, aided production of the Dassault Falcon 7X, the company's most advanced private jet [29]. Building on Dassault's success in building military fighter jets such as Rafale and Mirage, the Falcon 7X's advanced aerodynamics and flight control systems offer improved data analysis, reducing the pilot's overall workload so they can concentrate on flying. It also used fly-by-wire technology – a highly responsive digital control system that improves pilot control – for the first time in a business jet.
Gulfstream
Gulfstream Aerospace separated from Grumman Aircraft Engineering Corporation to concentrate on developing marketable business aircraft in the late 1950s. In 1966, the Gulfstream II became the company's premier business jet just three years after the Learjet 23 and Falcon 20 were launched [30]. The twin-engine aircraft flew at speeds of up to 581 mph and could reach a maximum range of 3030.79 miles [31], outpacing the Falcon 20 in both speed and range. Spurred on by the unwavering demand to go further and faster [32], the Gulfstream III followed in 1979 [33] and set a new record as the first private jet to fly over both poles. It had a top speed of 652.17mph and had a range of 3912 miles, outpacing Dassault Falcon 50 of 1976.
The Gulfstream IIB launched 1981, featuring a modified Gulfstream II fuselage and wings with winglets [34]. The new business jet had a top speed of 575.39mph, a maximum range of 3,560nm [35] and capacity for 12 passengers and a crew of two. The IIB's successor, the Gulfstream IV, commercially opened to the public in 1987 and featured an all-glass cockpit [37], a maximum range of 4833.27 miles and a top speed of 575.39mph, with capacity for 13 passengers and two crew members. The Gulfstream IV-SP and Gulfstream V launched a decade later in 1997 [38]. Powered by two Rolls-Royce engines, the V had a range of 6,675nm, a top speed of 584.71mph [39] and capacity for 16 passengers and two crew members. [40]
The turn of the millennium marked the start of a surge in Gulfstream private jets. In 2002, the company achieved ultra-long-range capabilities with the launch of the G550 and G500 [41]. The long-range G400 and mid-range G300 also launched around the same time [42]. Improvements focused not only on design and performance, but also on passenger comfort and satisfaction – in 2005, Gulfstream became the first to offer onboard ultra-high-speed internet, showing an awareness of customers' needs and market trends [43] as well as giving pilots an alternative communication channel. The G650 launched in 2009, featuring an ultra-large cabin, longer range and faster speeds of up to 709.72mph. [44]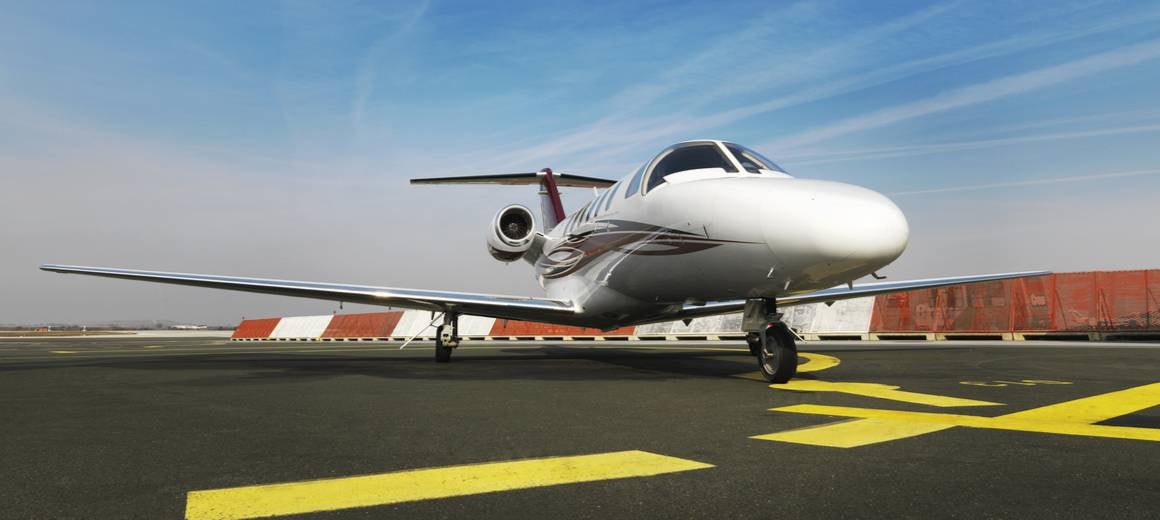 Cessna
Cessna entered the commercial jet industry in the late 1960s, with the introduction of the FanJet 500 in 1969 [45]. Featuring a long, straight wing design that allowed it to land in smaller airports, the plane shunned fuel-thirsty turbojet engines in favor of more fuel-efficient turbofans. The jet could easily land in places where airport facilities are congested [46], while its huge wingspan gave it a greater rate of climb, better cruise at high altitude and a desired angle of attack during landing. The Arab Oil Embargo of 1973 helped to grow the FanJet 500's market share, as it offered more efficient fuel consumption and an affordable purchase price [47] despite having a smaller range of 1,500 miles and a lower top speed of 400 mph compared to the Falcon 20 and GII. However, ultimately the affluent target consumer favored range and speed over cost-saving advantages, meaning the FanJet 500 struggled to achieve a greater market share in the long-run.
In 1976, Cessna followed the FanJet 500 with the Model 501/502 Citation, which offered an improved top speed of 400 mph and a 1,300-mile range. The model's main attraction was its advanced flight control, which made the plane easier for pilots to control. Expanded cabin capacity to a maximum of eight passengers was an additional advantage.
The Model 550 Citation II launched in 1977 with further improvements [48]. The new jet had a maximum range of 1,700 miles, could reach a top speed of 440mph and had an increased capacity of 11 people. The Model 650 Citation III followed in 1983 [49], with room to seat up to 15 passengers and a supercritical sweptback wing design that improved its aerodynamic performance. The new model could reach a top speed of 530 mph and had a transoceanic range of 2,500 miles. [50]
In 1984, Cessna launched the Citation S/II, a modified version of the Model 550 Citation II [51]. Another variation, 560 Citation V, was introduced in 1989 with greater baggage and cabin space [52]. Newer versions of the Citation 650 III were introduced in 1990 as the Model 650 Citation VI and VII, both with better wing design and engine performance [53]. The biggest improvement yet came in 1997 [54] with the Model 750 Citation X, which could fly at a top speed of Mach 0.92 with a maximum of 15 passengers [55] and featured an all-glass cockpit, swept wing design and improved engine performance.
The Citation X helped Cessna shed its reputation as a slow-speed, low-priced and low-performance plane manufacturer, as the new model could compete with the best in class and came at a more competitive price. In 2012, Cessna flew the first prototype of the Citation X+, its most advanced business jet. Featuring a highly swept T-tail and sweptback wing design, it can hit the Mach 0.935 mark and boasts greater cabin space and advanced avionics.
Bombardier
Compared to Dassault, Gulfstream and Cessna, Bombardier was a late entrant into the jet aviation business. The company launched its early program in the 1990s, including the Bombardier Challenger series which offered impressive transatlantic range. Bombardier acquired Learjet in 1990 and recent projects include the Learjet 70/75 in 2013 [56], which has a range of 2370.606 miles can reach a top speed of Mach 0.8 and can carry seven passengers. This was followed by the improved Challenger 350 in 2014 [57], which had an increased range of 3,682.49 miles, top speed of Mach 0.83 and passenger capacity of 10 [58]. Later that year, the Challenger 650 [59] offered improved engine performance with a top speed of Mach 0.85, reach of 4603.11 [60] miles and space for up to 12 passengers [61]. The Bombardier Global 6000 is among the company's best-selling business jets, with capacity of for 16 passengers, a top speed of Mach 0.89 and 6904.67 miles range. [62], [63]
An in-depth review of the current fastest jets in the world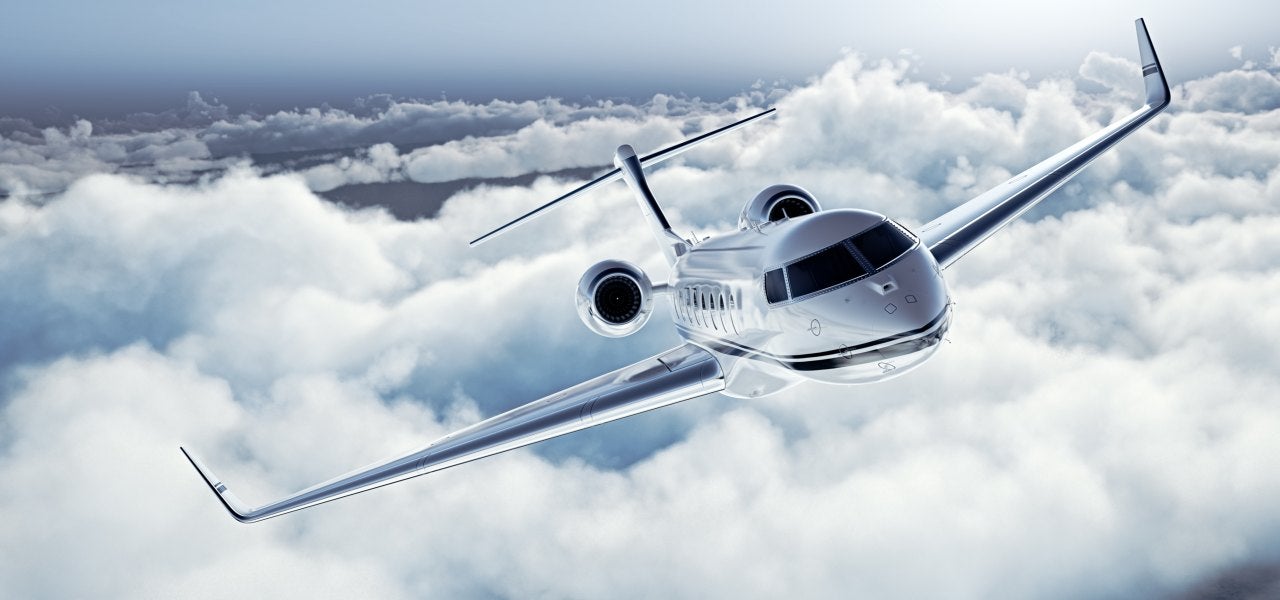 Cessna Citation X+
The fastest private jet in the world's performance is boosted by superior wing and fuselage designs, flight controls and engines. The aircraft has a circular fuselage design, with a contoured radome on the nose section giving a better angle of attack during landing [64]. An electrically heated windshield, which can be defogged from the inside, increases resistance to bird hits; while the wing and tail are heated with hot air to prevent ice formation. Supercritical aerofoil boosts speed without increasing wave drag on the wings [65], allowing the Citation X+ to fly close to the speed of sound, and a sweptback wing further improves performance [66] by preventing the formation of shockwave drag forces. The sweptback wing design provides extra lateral stability, making the Citation X+ relatively stable and smooth-flying.
The jet's wings are located in the underbelly rather than cutting through the middle of the fuselage, giving a larger floor surface and extra space to stretch. Having a larger wingspan (21.09m with a length of 22.43m) gives a high rate of climb and better cruising speeds at high altitudes. The Citation X+ uses its speed brakes and spoiler design to minimize pitching moments. A two-piece, hydraulically powered fly-by-wire rudder gives better control and response; while the plane's T-tail is highly swept with horizontal moveable stabilizers for trim.
The jet boasts high levels of fuel efficiency thanks to its full authority digital engine control system (FADEC), which automatically sets the fuel mixture and ignition to give the best performance in a range of scenarios. This smart control system calculates the RPM and throttle position to determine the amount of the air entering the engine and sets the timing for injection, optimizing engine performance in varying conditions. [67]
Two Rolls-Royce AE3007C2 turbofan engines remain at the heart of the plane, featuring advanced fan-blade technology and enhanced thrust compared to its predecessors. The fuel-efficient engines allow the plane to reach a maximum range of 3981.69 miles without refueling and give a thrust of 31.29KN each for high speed and range. Light jets are the best and most efficient performers and, compared to the other planes in its class, the Citation X+ is a lot lighter than the Gulfstream G650 or Dassault Falcon 7X. This enables it to accelerate and cruise at impressive speeds using the high thrust of its engines. [68]
Technology-wise, the jet's G5000 flight deck avionics suite gives the pilot a clear analysis of terrain, weather patterns and traffic,featuring touchscreen LCD control panels with triple 14-inch landscape WXGA high-resolution displays [69]. Garmin synthetic vision technology allows the pilot to assess terrain when windscreen visibility is compromised due to darkness or weather conditions [70], enhancing situational awareness with 3D terrain features [71] for an in-depth perspective view.
When flying in darkness, low light or cloudy conditions, pilots rely on the instruments in the cockpit to navigate the plane. The Cessna Citation X+'s LinxUS Air Work system uses real-time diagnostic features to isolate faults and address issues in the flight deck [72], allowing for prompt adjustments. Additional features include a terrain awareness warning system, traffic collision avoidance system and emergency locator transmitter. [73]
Onboard entertainment systems, copious legroom and cabin stand-up headroom, an all-glass cockpit and ultra-high-speed internet enhance the flying experience for both passengers and crew; while real-time communication facilities allow passengers to make calls, send emails and follow meetings while cruising at speeds of Mach 0.935 [74]. The jet can takeoff from and land on runways as short as 5,250ft, enabling access to airports that can't be reached by conventional wide-body commercial aircraft.
Purchase price: approx. $23 million.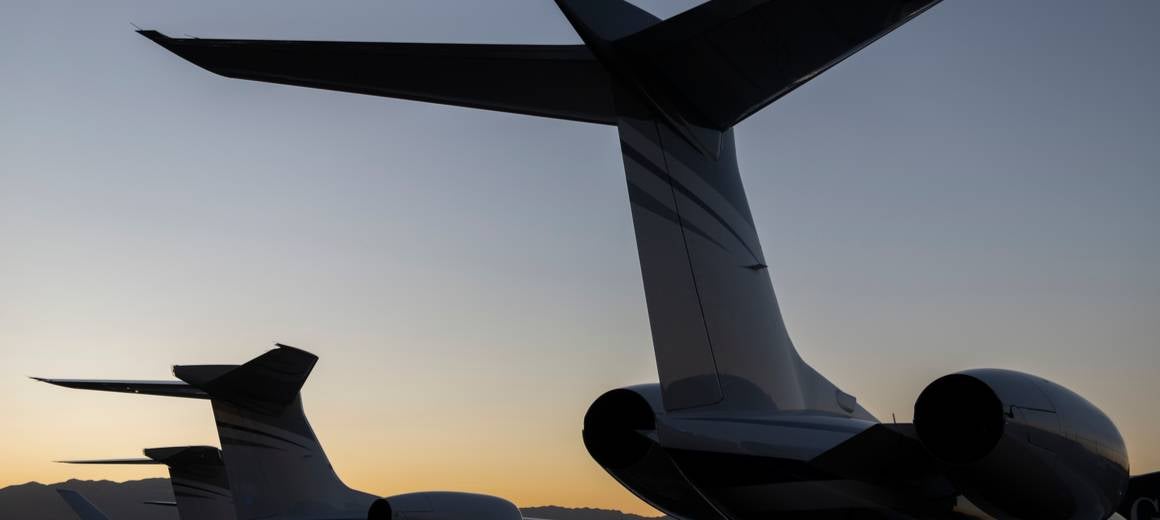 Gulfstream G600/500
Powerful engines and efficient design are two key factors in the Gulfstream G600/500's impressive performance. Both jets' wings use a supercritical aerofoil, which reduces drag and vortex for greater speed and better stability at high altitude. A sweptback wing boosts aerodynamic performance by minimizing the formation of shockwaves and giving better stability at high speed; while the large wingspan gives a better rate of climb, improved performance at high altitude and the ability to land on short runways. A long, unfettered wing improves airflow for a smoother ride and the use of composite material in the wing and sections of the fuselage significantly lowers the jets' overall weight. The nose and all-glass, ultra-large cabin give a desirable angle of attack during landing.
The G600/500's fuel-efficient Rolls-Royce BR725 engines are a key contributor to the jets' impressive speed. Offering more thrust than the previous generations, the custom-made engines combined with auto-throttle management are maximized for high performance.
Modern technology enhances control and convenience during flight. The G600 uses a fly-by-wire computerized flight control system, which can run both on autopilot and in the presence of the pilot; while the enhanced vision system (EVS) includes a mounted infrared camera that gives the pilot a better view of the surrounding terrain at night and in poor light conditions. Flight deck avionics are optimized to reduce the pilot's workload; for instance, the EVS is routed to the head-up display (HUD) to display data in the pilot's forward field vision, while virtual reality/synthetic vision 3D colour images improve awareness of terrain and obstacles and give a better approach to landing.
A flexible cabin design allows for different configurations for entertainment, meetings and relaxation, while the Gulfstream Cabin Management System provides a user-friendly interactive interface through which passengers can easily control the cabin's atmosphere to personalize their onboard comfort. An Apple iOS or Google Android smartphone can be used to adjust onboard lighting, entertainment options, window shades and temperature controls, as well as track the progress of the flight.
Purchase price: approx. $65 million.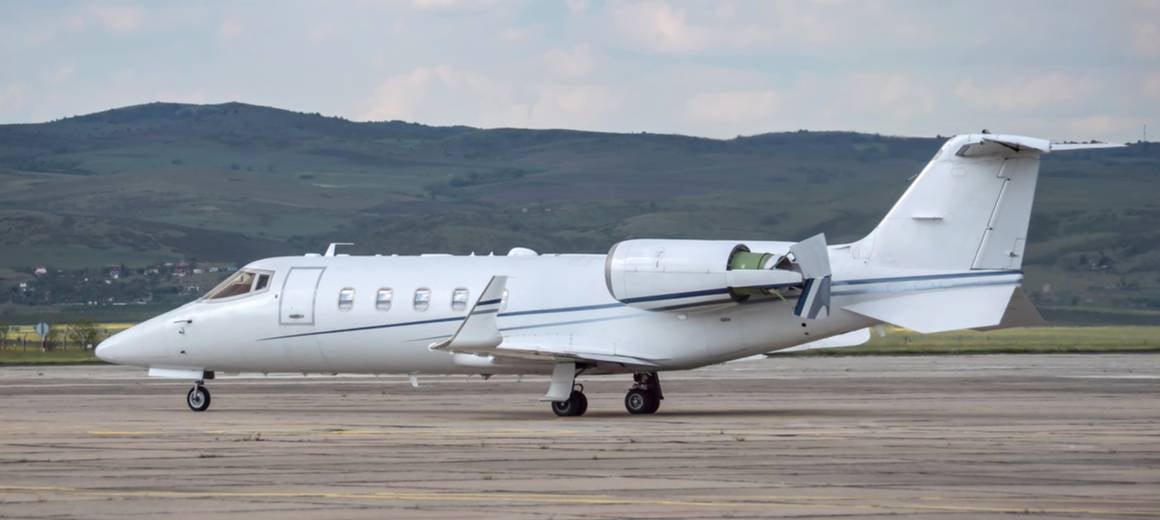 Cessna Citation X
Bearing strong resemblances to its successor, the Cessna Citation X+, the Cessna Citation X is an earlier example of Textron Aviation's state-of-the art designs. The jet features a sweptback wing with supercritical aerofoil and high-performance winglets that boost aerodynamic performance on a hot day and at high altitudes; plus a highly sweptback T-tail. It also boasts two Rolls-Royce AE3007C engines, which were later modified to AE3007C2 for the Citation X+ [75]. These are controlled by a FADEC system, which increases fuel-efficiency and allows the jet to go further and faster without exceeding the engines' performance limitations.
The Cessna Citation X uses a Honeywell Primus 2000 avionics suite [76] which, while not as advanced as that of the Citation X+, gives easy usability through five screens displays and boasts an enhanced ground proximity warning system and traffic alert and collision avoidance systems (TCAS II) [77]. An electronic flight bag cockpit iPad gives the crew easy access to terminal charts, approaches, arrivals, departures and company manuals.
The aircraft boasts a wide cabin layout, allowing for a wider range of configurations and giving passengers more space. Designed for incessant connectivity, onboard Wi-Fi allows passengers to communicate with the outside world in real-time as though they were working in a normal office. The jet's high altitude climb level minimizes turbulence and improves the overall smoothness of the flight.
Purchase price: approx. $23 million.
Dassault Falcon 7X
The Dassault Falcon 7X's high transonic sweptback wing allows it to travel at faster speeds and a higher altitude, while allowing a slow approach for landing. It also features double-slotted Fowler flaps and leading-edge slats that improve the overall aerodynamics of the jet. A tri-jet engine configuration ensures the aircraft travels faster and further, using PW307A turbofan engines for greater efficiency and thrust. [78]
Fly-by-wire technology maximizes the jet's ergonomic performance, with a side-stick controller similar to those used in fighter jets allowing the pilot to control the direction of the plane. The flight deck is equipped with a Falcon EASyII system with HUD for pilot convenience [79]; while the digitalized flight control improves handling for a smoother flight.
Purchase price: approx. $54 million.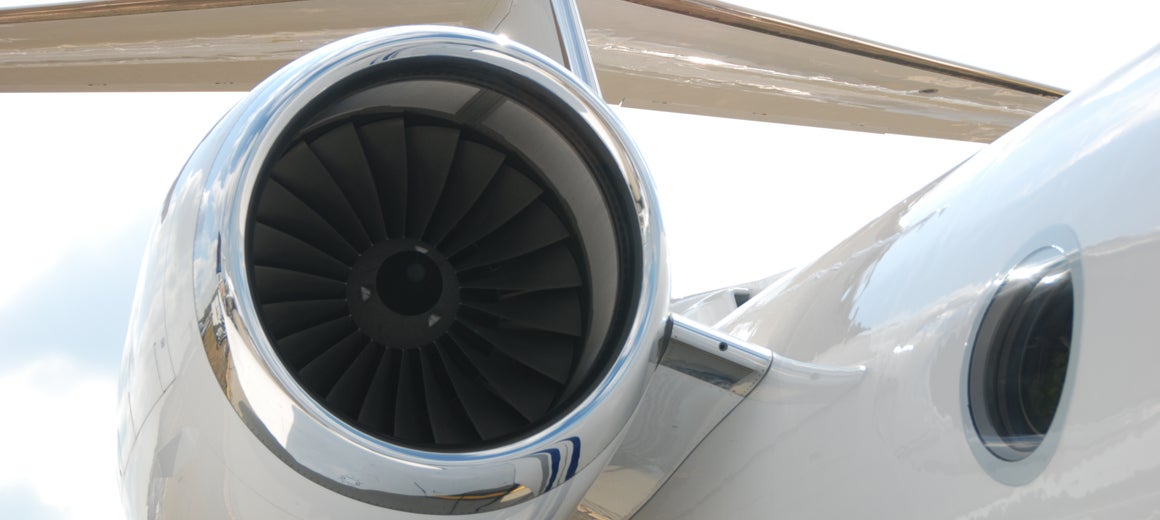 Gulfstream G650ER
The G650ER shares the same fuselage, wing design and Gulfstream Cabin Management System as the G600/500 and boasts a fly-by-wire flight control system. Rolls-Royce BR725 A1-12 engines are modified from the BR725 engines used in the earlier G650 [80]; while an auto-throttle system optimizes performance in any given conditions.
The aircraft features a range of technology, including on-board computers for automatic monitoring and minute-by-minute adjustments plus an enhanced vision system to make it easier to fly at night and land when visibility is poor [81]. The Gulfstream PlaneView II avionics suite provides improved HUD data displays on the flight deck to ease the pilot's workload.
Purchase price: approx. $27 million.
Bombardier Global 6000
The Bombardier Global 6000 is made using lightweight carbon fibre materials to improve fuel efficiency; while its wing and fuselage design contribute to remarkable overall aerodynamic performance. The jet has a swept-wing design with supercritical aerofoil, while winglets and a swept-back T-tail enhance aerodynamic stability at high speeds.
Onboard technology includes a HUD, giving the pilot easy access to [82] data ; a multi-function touch-screen display; and a maintenance and diagnostic system to promptly isolate and correct issues in the flight deck [83]. Three flight management systems – an inertial reference system, an Artex 406 emergency locator transmitter and a traffic avoidance warning system – help the crew to plan approaches, landings, arrivals and departures. The cabin features a global office with local area network (LAN), high-speed internet connection and an Airshow SX entertainment system with moving map and flight information display [84]. Passengers can customize the atmosphere in the cabin to their desired comfort levels.
Purchase price: approx. $73 million.
Gulfstream G650
The Gulfstream G650 features a sweptback T-tail and lightweight wings with winglets, ailerons, spoilers and flaps that improve speed stability during flight. The wing is attached to the underbelly of the fuselage, preventing cabin squeezing and giving passengers more room to stand. The ultra-large, all-glass cockpit features an electrically-heated windshield for resistance to bird hit and a PlaneView display system, which covers the entire instrument panel giving pilots a good viewing area and provides full performance data analysis.
Two Rolls-Royce BR710 C4-11 engines produce a thrust of 15,385lbs each [85] and are FADEC-controlled for better efficiency and performance. HUD technology allows pilots to stay focused on the sky, while an enhanced vision system improves visibility in poor weather conditions or during night-time flights [86]. Gulfstream-designed cursor control devices give pilots an enhanced command of essential flight data, allowing them to see airways, radar data, navigational aids and airports through a select-and-scroll system. [87]
Additional technological improvements from previous Gulfstream models include a synthetic vision option in the primary flight display, which offers pilots 3D graphics of the surrounding terrain to enhance their awareness even when flying in zero-visibility conditions. The cabin features Wi-Fi, satellite communication and phone, fax and printer facilities, making the jet feel like a flying office and allowing business executives to stay connected while en route to their next meeting.
Purchase price: approx. $27 million.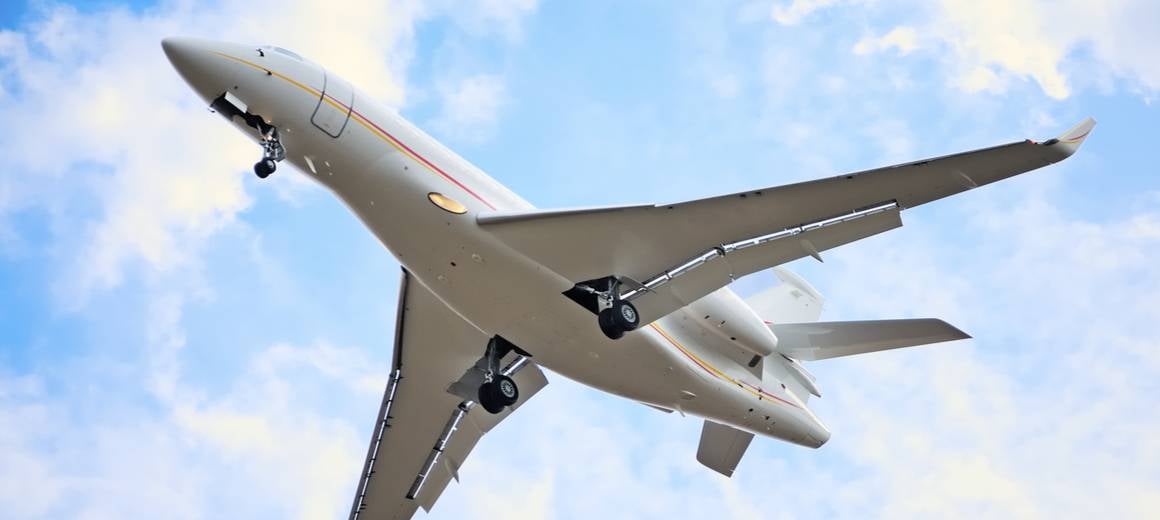 Dassault Falcon 2000LX
The Dassault Falcon 2000LX is a wide body, high-performance business jet with cabin space for eight passengers. Unlike the Falcon 7X's tri-jet engines, the 2000LX is powered by two PW308 turbofan engines, each giving a thrust of 6,100lbs [88]. Incorporating composite materials and metal alloys, the jet features a double-swept wing to optimize performance plus horizontal stabilizers and a nose cone made from glass composites, Kevlar and aluminum. Multiple load paths and low stress levels ensure stress is transferred to alternative paths if the primary load path fails. A quarter-chord wing sweep gives an aspect ratio of 7.66 and the jet has no limitations on airbrake operations.
The aircraft features extensive technology, especially in the flight deck where a Honeywell Primus Epic flight management system improves navigation by allowing the pilot to identify difficult terrain and redirect flight paths. Auto-throttle systems allow the pilot easy access to optimize engine performance and the flight display system boasts four LCD screens: two with cursor control devices and two with keyboards [89]. Precautionary systems include an integrated electronic standby indicator, rechargeable flashlights and a standby magnetic compass.
Purchase price: approx. $33 million.
Dassault Falcon 900LX
The Dassault Falcon 900LX is powered by three TFE 31-60 engines in tri-jet configuration, with each engine giving a thrust of about 5,000lbs, with an auto-throttle system optimizing performance in different conditions. Compared to the Falcon 2000LX, this jet has more cabin space and a greater capacity. The ultra-large cockpit is surrounded by glass and can be defogged from the inside. The wing is swept back at quarter-chord and the winglets and wing-span improve overall lift while minimizing drag, enhancing the jet's speed performance.
The Falcon 900LX's flight deck technology is very similar to that of the Falcon 2000LX. Avionics include EASy II; a Dassault-optimized version of Honeywell's Primus Epic that enables electronic charting and satellite weather updates, keeping the pilot informed about arrivals, departures and weather conditions and allowing them to redirect traffic accordingly [90]. Two LCD screens use cursor control devices, enabling the pilot to effortlessly execute commands and focus on flying the jet; while synthetic vision gives a 3D, color-coded image of the surrounding environment to improve situational awareness [91].
Purchase price: approx. $43 million.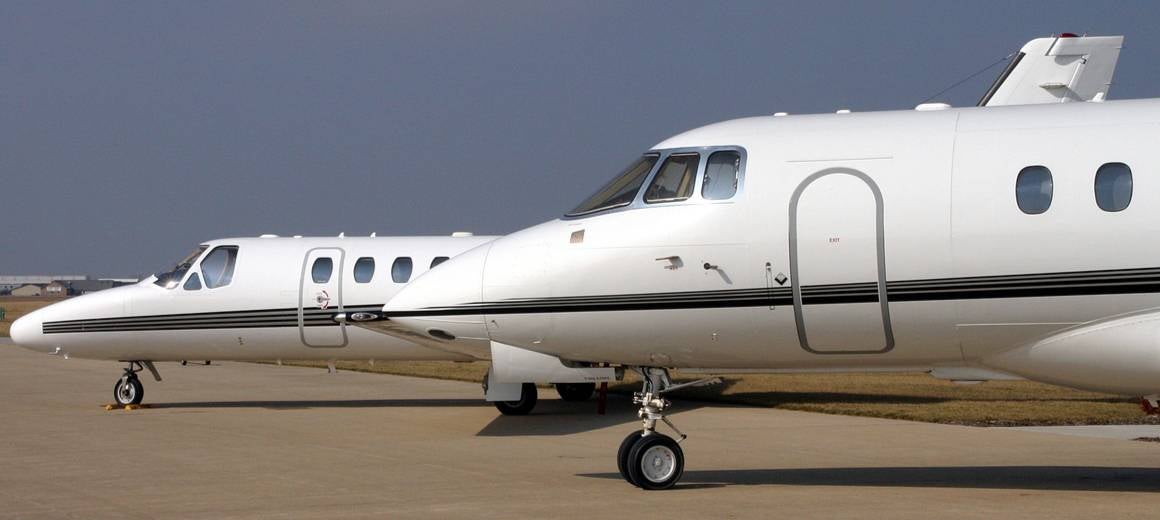 Citation Longitude
Two Honeywell HTF7700L engines power the Citation Longitude, each giving a thrust of 7,600lbs [92]. Its wing design is very similar to that of the other Citation models, located in the underbelly with a highly swept-back T-tail. The jet's engine power and wingspan give it impressive speed performance and range.
The plane's cabin has a flat floor with easy access to the baggage area, which is pressurized and warmed with hot air. Innovative onboard technologies include an automatic ice detection system that alerts crew-members when ice forms inside or outside the cabin. The flight deck features brake-by-wire and fly-by-wire rudders and spoilers, along with two autonomous hydraulic systems that ensure redundancy. Flight deck avionics include the company's Garmin G500 system, which offers touch-screen controls, HUD and enhanced vision. [93]
Purchase price: approx. $27 million.
Want to know more about the prices of private jets? Find out more about how much it costs to buy a private jet in our blog, and discover some of the most lavish private jet interiors in this piece on the cost of a custom private jet interior.
Factors affecting the cost of the world's fastest private jets
Several factors are taken into consideration when pricing private jets, including:
Range and speed
Lifecycle of design
Materials used
Construction labor costs
Operational costs
Reliability
Accessibility of repairs and parts
Included maintenance services
Investment in research
Market dynamics
Customer preferences
Brand values
Strategic factors such as expanding market share and creating brand appeal can also affect different manufacturers' costing structures.
The future of aviation and private jets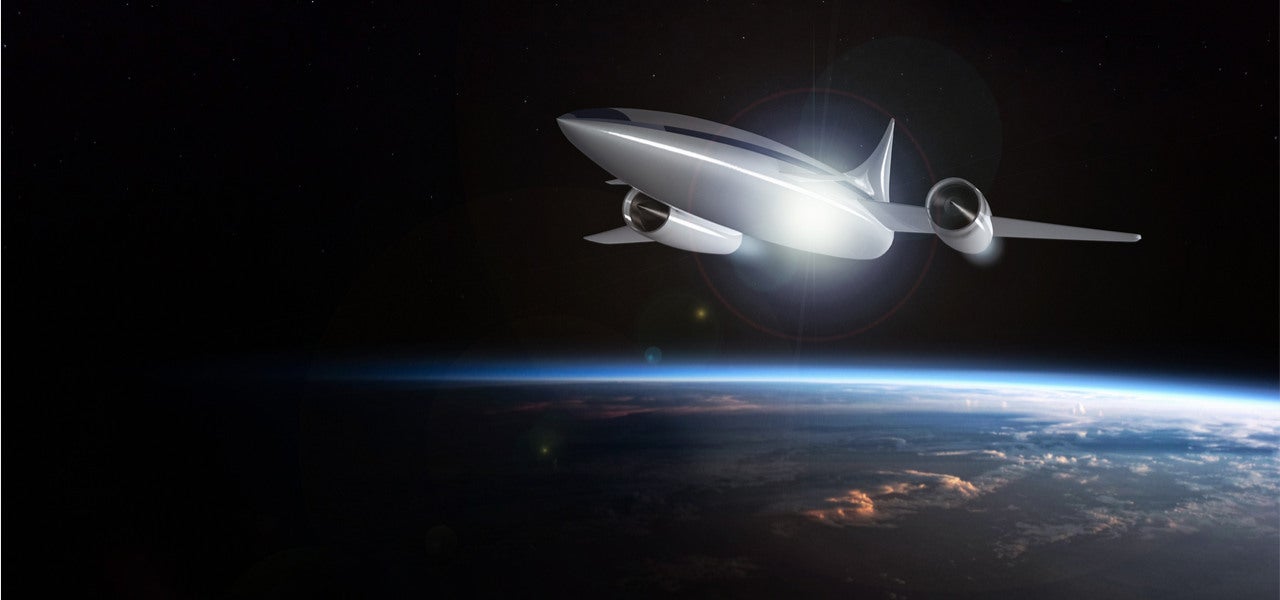 Future faster jets (2019 onwards)
The fastest private jets of the future will fly at either supersonic or hypersonic speeds, in response to a growing demand to fly faster and more conveniently. This trend can already be seen in Cessna's focus on increased speed and range with the Citation X and X+.
The NASA X-plane, which can reach a top speed of over Mach 1, continues to inspire private jet manufacturers to explore supersonic and hypersonic flight in future designs. The Bombardier Global 6000 travels close to the speed of sound and the company is set to reveal further exciting developments with its upcoming Global 7000 and Global 8000 models. Major competitors including Dassault, Gulfstream and Cessna are also working on boosting the speed of their jets to supersonic or hypersonic range in response to emerging needs.
Private jet models that can travel at the speed of sound may be unveiled as early as 2019, with supersonic jets also expected in the near future as NASA continues to test out new technology (the NASA X-plane is expected to reach a top speed of Mach 2.2).
Future aircraft concepts in research and development
Key concepts being researched and developed among the major aviation players include pilotless or unmanned aerial vehicles (UAVs), electric planes and blended wing body design [94]. The concept of the pilotless jet is gaining critical focus, with a view to reducing overall flight costs by eliminating the need for outlays such as pilot salaries, daily stipends and hotel layovers [95]. The growing demand for air travel means companies are having to invest in training more pilots and crew-members – an estimated 200,000 pilots are currently in employment, with the number set to increase to 560,000 in the next 20 years [96]. By developing self-flying aircraft, airlines can help to address the future demand for pilots, as well as potentially improving flights by reducing the margin for human error. [97]
Other concepts gaining pace concern more efficient aircraft design. Blended wing body design is an innovative concept that sees the wing blend smoothly into the wide flat fuselage [98]. The advantage is that the fuselage contributes to most of the lift generated, while the wings provide balance and stability [99]. By supporting a smaller surface area, the design helps to reduce drag better than the usual cylindrical fuselage, resulting in greater fuel efficiency and range.
Electric planes are a hot topic of research and development, as manufacturers focus on electronic aviation in response to growing concerns about the aviation industry's carbon emissions. Government and international agency regulations add to the pressure to develop environmentally friendly designs. Prototypes being tested include the Alpha Electro II, E-Genius, E-Fan X and NASA x-57 [100], with the greatest challenge being to achieve sufficient range and efficiency [101]. For instance, Swiss solar-powered aircraft Solar Impulse 2 could only carry one passenger and its speed was compromised by the low energy output of its solar panels. Additionally, solar-powered planes can't fly at night or on gloomy days due to the lack of sunlight; and carrying a battery to store extra charges isn't viable, as this would increase the plane's overall weight and limit its speed and range.
Many innovative ideas are being developed to increase speed and range, such as a novel engine that incorporates operating principles from both the rocket engine – which can reach supersonic speeds and high altitudes where there's minimal drag – and the standard jet engine. The existing scramjet design incorporates the idea of using a rocket engine [102]; however it's difficult to decelerate from supersonic speed to land on conventional runways. Merging standard jet engine principles with the rocket engine may solve the problem, as the former could help start the jet and climb to a high altitude before the latter is switched on to achieve supersonic speed. [103]
Vertical take-off and landing (VTOL) technology is set to advance on the existing systems used in military fighter jets, allowing private aircraft to takeoff and land on a small stretch of runway.
Future technologies and private jet development
3D printing allows for the more cost-effective optimization of designs and structures. Researchers are now free to build prototypes in the lab and test designs iteratively, making it easier and cheaper to develop aerodynamically stable, functionally efficient designs. Additionally, advancement in the use of composite materials is expected to result in aluminum alloys and other metals such as titanium being replaced with lightweight, high-strength materials such as glass fiber, Kevlar and carbon fiber. The aviation industry is heading towards lightweight, structurally rigid and highly durable designs at much affordable cost. With lower weights, better engine optimization and 3D printing technology, future jets will be able to transport passengers faster and further.
Importantly, the use of 3D printing can significantly lower costs by cutting labor costs and improving cycle time as designs are quickly assembled by machines [104]. It also allows more complex and intricate designs to be fabricated in plants, meaning future private jets may look a lot different in airframe and fuselage.
The development of supersonic or hypersonic business jets would significantly cut travel times. Early examples of supersonic civilian aircraft include Concorde and Tu-144; however, high operation costs and sonic boom eventually led to the Concorde's retirement. Researchers are now trying to develop sustainable technology for supersonic and hypersonic aircraft, with NASA X-planes designed to overcome the problem of sonic boom and hit a maximum speed of Mach 2.2 in silence. [105]
Innovative "intelligent airports" are in development to support the future fastest private jets, reducing human involvement in traffic control. The electronic charting and flight management systems already present in many private jets illustrate a move towards this smart technology.
Finally, air taxi hailing services have the potential to reduce traffic congestion, cut travel time and increase productivity in the world's busiest cities. In order for the concept to work on a large scale, however, a new traffic control system is needed.
Technologies that Could Impact Private Jet Development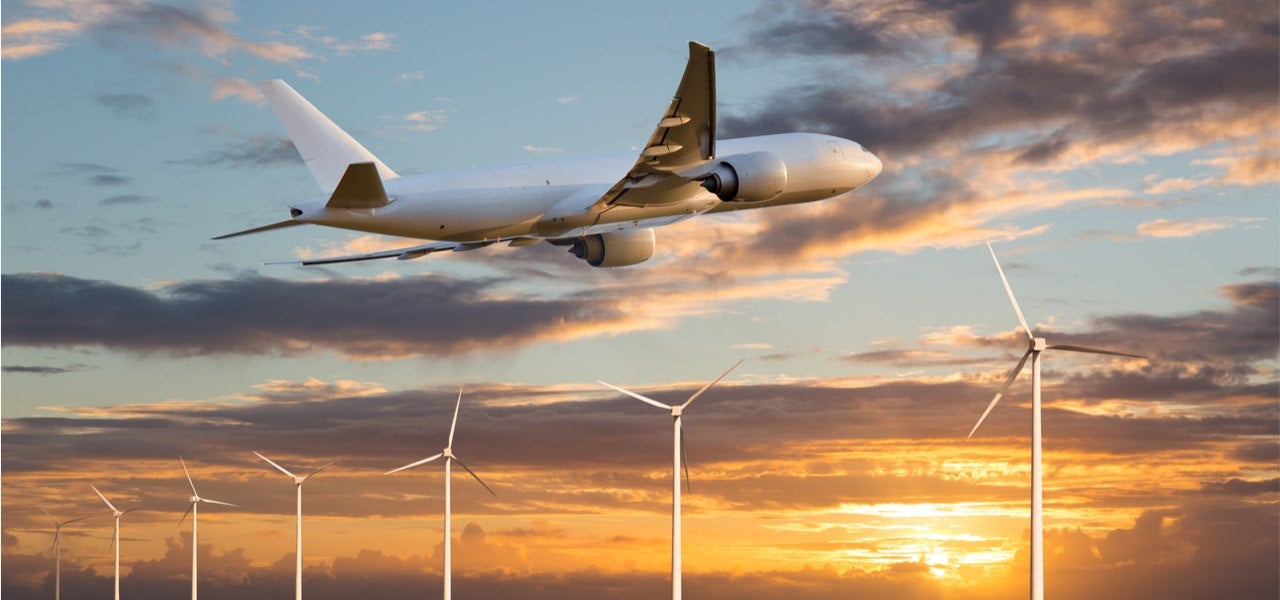 With increased environmental awareness and worldwide clean energy initiatives, reducing carbon emissions remains a challenge for aircraft designers and will continue to dominate the aviation industry as the key performance indicator for aircraft [106]. The use of clean and renewable fuel is a potential solution; however, more research is needed to achieve the desired speed and performance using clean energy. Jet engines powered by electricity, for example, currently can't provide the expected speed or range [107], while the size and weight of electric batteries and solar panels are also limiting.
Nuclear or hydrogen energy is a promising clean fuel. As a small amount of fuel can provide a huge amount of energy, reducing the overall weight of the aircraft; while its high efficiency guarantees extra miles without the need for continuous refueling. Nuclear energy is already used by the Navy to power massive aircraft carriers and submarines, with the well-developed nuclear fusion method offering more energy per unit mass than any other conventional fuel [108]. The thrust exerted by the combustion of nuclear fuel can also significantly improve an aircraft's range, making supersonic and hypersonic speed a possibility.
The main drawback of nuclear fuel is that a collision or crash [109] could have far-reaching and long-lasting environmental consequences [110],[111], while airport authorities would have to navigate the challenges of handling highly radioactive nuclear waste. Even a minor accident could lead to the evacuation of several suburbs and cities, leaving them permanently uninhabitable. Developing advanced technology could considerably reduce the risk of damage or contamination, such as by securing nuclear reactors in strong reactor shields that can withstand even high-impact accidents. When Russian nuclear-powered submarine Kursk exploded, for example, the nuclear reactor remained undamaged thanks to such innovative design approaches. [112]
Radical developments in artificial intelligence (AI) mean pilotless aircraft are no longer the stuff of sci-fi movies. But while a fully pilotless system could lower operating costs, there are also security concerns, such as cyber attacks during which criminals could gain control of a flight from the ground and blackmail those onboard [113]. In light of military drones being hacked or electronically jammed and forced to land [113],[114], it's feared that terrorists could remotely hijack a pilotless plane without even being traced at the airport. Technology can also fail without warning, such as when a Tesla self-driving car crashed during a drive, killing the driver. Many experts believe AI technology should focus on reducing the need onboard staff rather than fully eliminating them, while allowing for human intervention during an emergency. This would still reduce operating costs while limiting the risk of cyber attacks.
Conclusion
From the findings in this report, one thing is clear: the private jet industry isn't slowing down. As technology evolves and provides increasingly efficient ways for airplane manufacturers to create faster aircraft, traveling around the globe will be quicker and easier than ever before.
If you're looking to travel at the forefront of private jet technology, Air Charter Service has you covered. Want to know more? Read our blog all about the cost to charter a private jet or call us on +1 516 432 5901 to discuss your bespoke private jet charter journey.