The Fastest Commercial Airliners in the World
Shrinking the world with the fastest airliners
Since the heady days of the Aérospatiale/BAC Concorde (1976 to 2003), commercial airlines have been antsy about pushing the boundaries of supersonic air travel. The British-French turbojet-powered passenger jet, with its iconic slender body and droop-nose silhouette, broke the mold with a maximum speed over twice the speed of sound at Mach 2.04 – that's 1,354 miles per hour (mph) or 2,180 kilometers per hour (km\h) at cruise altitude.
Although several reasons were given at the time for retiring the airplane, today it's generally agreed that a lack of continued innovation on the plane's design and performance, along with high fuel costs and the plane's modest seating capacity of 92 to 128 passengers, were the main reasons why British Airways and Air France decided to can the project.
Now, super-fast air travel is back on track, thanks to three main factors that have created a perfect storm in the aviation industry.
Technology developments
The Lockheed SR-71 Blackbird long-range reconnaissance aircraft, used by the United States Air Force between 1964 and 1998, is the jet with the fastest speed record at 3.3 Mach (2,200 mph). Until now that is. Researchers and manufacturers have learned from the Concorde and Tu-144 failures and are busy at work, developing sustainable technology for supersonic aircraft.
The X-59 QueSST plane (short for Quiet Supersonic Technology) has been designed to overcome the problem of the dangerously loud sonic boom by reaching a maximum speed of Mach 2.2 in relative silence. The jet is being manufactured by Lockheed Martin for $247.5 million as part of NASA's Low-Boom Flight Demonstrator program. The X-59 is expected to be delivered in 2021, for flight tests that will be conducted in 2022. It is this aircraft that is expected to bring civilian supersonic travel into the mainstream.
Pilot shortage and dramatic increase in air travel

According to an International Air Transport Association (IATA) forecast, annual demand for air travel is expected to double in the next 20 years, to 7.8 billion. In the meantime, the number of pilots in the U.S. has decreased by 30% since 1987. In the 1980s, about two-thirds of airline pilots were ex-military, but that number has dropped to less than one-third. The Navy predicted a 10% pilot shortage in 2020, and the Air Force expects to be short of 1,000 pilots by 2022. The problem could be solved, in part, by fast commercial airliners that can fly more passengers to their destinations in less time.
Urgent need to cut carbon emissions
Right now, the faster you fly the more fuel you burn. Last year, the longest non-stop flight in commercial aviation history took 19 hours from Singapore to Newark, New Jersey. The Airbus A350-900 ULR's (ultra-long-range) fuel system had to carry an additional 24,000 liters of fuel to make 9,700 nautical miles of non-stop flight possible.
At the same time, the aviation industry has never been more aware of the importance of reducing its carbon footprint, especially in light of recent climate change events. IATA's Carbon Offset and Reduction Scheme for International Aviation (CORSIA) has committed to carbon-neutral growth from 2020 and a 50% cut in 2005 carbon emissions by 2050. The challenge of flying faster, on less fuel, has spurred several projects researching the use of new composite materials and sustainable fuels in airline travel. The research is set to solve the problem of fuel efficiency in super-fast aircraft.
Fastest commercial airliners countdown
In the meantime, if you're looking to get somewhere in a hurry, these are the commercial airliners that can get you there quickly.
BAe 146-200 (487 mph)
The British Aerospace 146, BAe 146 for short, is a short-haul regional airliner. It was manufactured by British Aerospace, which later became part of BAE Systems, in the United Kingdom from 1983 to 2002. Originally promoted as a 'feederliner' and regional airliner, the airframe and many of the other aspects of this aircraft were designed to be simple. The BAe 146-200 features a large airbrake with two petals at the rear of the fuselage below the tail rudder instead of thrust reversers. The advantage of the airbrake over thrust reversers is that they can be used during flight and allow for steep descents if needed. The BAe 146-200 had a cruise speed of Mach 0.7.
The 146-200 is powered by four Avco Lycoming ALF 502 turbofan engines mounted under the aircraft's high wing. One of the notable features of this aircraft, and its engines, is that it had a very low level of operational noise. This was because of the geared turbofan ALF 502 – the gearbox allows the fan speed to stay below the speed of sound, which greatly reduces the noise emitted from the engines. Having equipped four engines on the BAe 146 meant that it had superior takeoff performance on short runways and in hot and high-altitude conditions.
BAC One-Eleven series 500 (526 mph)
Also known as the BAC-111 or the Super One-Eleven, the British Aircraft Corporation One-Eleven was a short-range jet airliner widely used from the 1960s well into the 1990s. This aircraft was the second-ever short-haul jetliner to enter service, following the French Sud Aviation Caravelle. The One-Eleven was designed and built to replace the turboprop Vickers Viscount on short-haul routes, though it proved to be quite popular with domestic airlines and various international operators. It is one of the most successful British designed airliners. The BAC-111 had a cruise speed of Mach 0.68.
The One-Eleven Series 500 was an improved design of the original One-Eleven aircraft. Compared to its predecessor iterations of the One-Eleven, the Series 500 was longer by 8ft 4in ahead of the wing and 5ft 2in behind the wing and 512 Rolls Royce Spey turbofan engines. The aircraft also featured a modified cockpit that incorporated avionics systems and instrumentation which included a more sophisticated autoflight system.
Ilyushin IL-62M (571 mph)
Russia created the Ilyushin IL-62M long-range narrow-body jetliner, built and designed by Ilyushin Aviation Complex in 1960. The IL-62M was designed as a successor to the very popular turboprop IL-18. The IL-62 was the world's largest jetliner when it made its first flight in 1963 - it could seat almost 200 passengers and crew. The IL-62M model of the Ilyushin IL range became the longest-serving model in its airliner class. Special VIP conversions of the aircraft layout were developed to be used as head-of-state transport by 14 countries. The IL-62M has a cruise speed of Mach 0.74.
The IL-62M features powerful, efficient and quiet Soloviev D-30KU engines and a fin fuel tank. It also features simple, light single-slotted flaps and incremental aerodynamic improvements over its predecessor models. Most notable of these improvements is the addition of spoilerons (wing-mounted air brakes) and the ability to use idle reverse thrust in flight to shorten the landing run required for the aircraft.
Boeing 777 (590 mph)

First introduced in June 1995, the fifth fastest passenger plane on our list is the long-range, wide-body, twin-engine Boeing 777. The American manufactured Boeing 777 is the world's largest twinjet and it's a favorite of commercial airliner heavyweights British Airways, United Airlines, Cathay Pacific, and Emirates. It has a maximum capacity of 396 passengers and completes long-haul flights with ease. The Boeing 777 has a cruise speed of Mach 0.76.
The 777 is the most-produced Boeing wide-body jet, surpassing the Boeing 747. As of January, this year, about 60 customers had placed orders for 2,013 aircraft of all variants, (with 1,584 aircraft already delivered) since commercial service of the jet began with United Airlines in 1995. The 777 also has the honor of being the first commercial aircraft to be designed entirely by computer. A 3D CAD software system, sourced from Dassault Systemes and IBM, was used to create design drawings of the 777. The system was groundbreaking in that it allowed engineers to assemble a virtual aircraft, in simulation. Being able to check for interference and ensure that the thousands of parts fit properly, substantially reduced costly rework on the plane.
Boeing 747 and Airbus A380 (652 mph)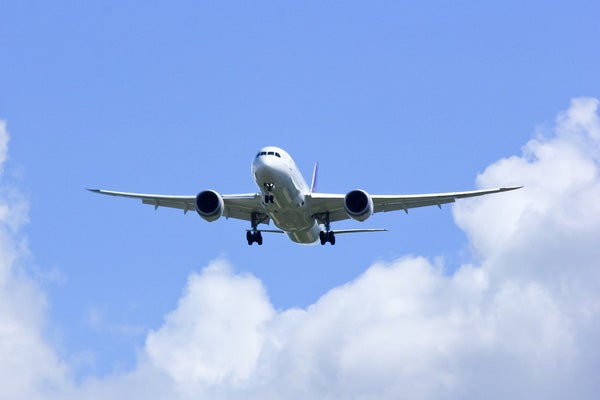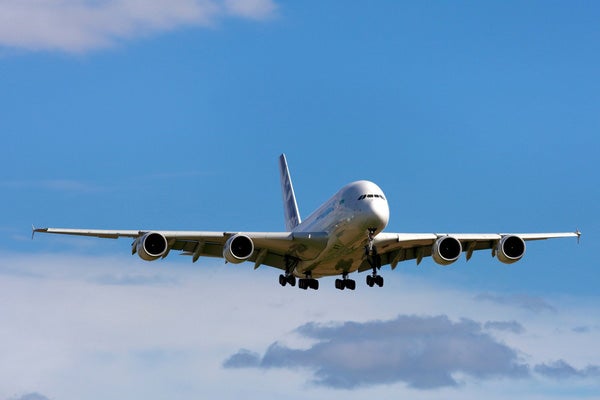 In joint third place are airliner rivals Boeing and Airbus. Introduced in October 2011, the Boeing 787 Dreamliner is a mid-size, long-haul twin-engine airliner that can seat a maximum of 335 passengers and has a cruising speed of Mach 0.85. The 787 is 20% more fuel-efficient than the Boeing 767, which it was designed to replace. The aircraft's distinguishing features include mostly electrical flight systems, raked wingtips, noise-reducing chevrons on its engine nacelles, and cabin windows that are larger than any other civilian plane in service or in development. Window dimensions are 10.7 inches by 18.4 inches with a higher eye level, so passengers can retain a view of the horizon. Since 2011, Boeing has reportedly spent $32 billion on the 787 program. In 2018, the valuation for a new 787-9 was $145 million, an increase from $135 million in 2014.
Sharing the same Mach is the double-deck, wide-body, four-engine A380 from Boeing's biggest competitor, Airbus. The European manufactured Airbus A380 is the largest passenger plane in the world, with a maximum capacity of 853 passengers. Powered by four Engine Alliance GP7200 or Rolls-Royce Trent 900 turbofans, this behemoth has a range of 8,000 nautical miles. The aircraft is primarily used by Emirates (123 aircraft on order), Singapore Airlines, and Lufthansa; while Boeing's 787 Dreamliner is popular with Japan Airlines, Qatar Airways, and United Airlines.
Costs involved in the $10.3 billion A380 project – launched in December 2000 – rose to $19.5 billion when challenges around the aircraft's electrical wiring resulted in a two-year delay. Production of the A380 peaked in 2014 at 30 aircraft a year, but Airbus now believes that their investment in the development of the jet will never be recouped. Production of the last Airbus A380 is intended for 2021.
Boeing 747-400 (656 mph)

Our runner-up is the wide-bodied, four-engine Boeing 747-400. Boeing's best-selling 747 model offers airlines a number of technological and structural improvements over previous models like the 747-300. These include six-foot winglets mounted on six-foot wing tip extensions, a two-crew glass cockpit (negating the need for a flight engineer), engines with increased fuel efficiency, an optional fuel tank in the horizontal stabilizer, and revised fuselage/wing fairings. The jet's interior boasts an upgraded in-flight entertainment architecture and can accommodate a maximum 660 passengers in a high-density one-class configuration.
The new engines – Pratt & Whitney PW4056, General Electric CF6-80C2B1F, and Rolls-Royce RB211-524G/H – have lowered fuel consumption and produced more thrust, along with a full-authority digital engine control (FADEC). The 747-400 bolts through the sky slightly faster than its competitors, with a speed of Mach 0.855. Introduced in 1989, the maximum capacity of this passenger airliner is 660 and its primary users are British Airways, Qantas and Lufthansa. Popular as a long-haul aircraft, the 747-400 can fly non-stop for up to 7,670 nautical miles.
Boeing 747-8i (659 mph)

The world's fastest aircraft also belongs to the Boeing family – the wide-body Boeing 747-8i. Also known as the 747-8 Intercontinental, this super-speedy airliner features redesigned wings, new engines, and improved fuselage and efficiency; and can carry 342 passengers, including eight in First Class and 92 in Business Class. The Boeing 747-8i sped into service in 2012 and eclipsed all of its competitors at Mach 0.86.
In the aviation industry's version of a celebrity feud, the 747-8i has been in competition with Airbus A380 on long-haul routes. Boeing says its plane is 10% lighter per seat and consumes 11% less fuel per passenger than the A380 – which means a trip-cost reduction of 21% and a seat-mile cost reduction of around 6%.
In 2017, the U.S. Air Force reported that the current presidential Air Force One and Air Force Two – both Boeing 747-200s – would be replaced by two Boeing 747-8s which were originally destined for the bankrupt Russian airline, Transaero. The jets will be retrofitted with telecommunications and security equipment to bring them up to the required security standards for the presidential aircraft.
Honorary mention
Boeing has plans to create the fastest commercial airliner in the world that will eclipse anything the aviation industry has experienced so far in civilian aircraft. The hypersonic jet will be able to reach Mach 5 or 3,800 mph (that's five times the speed of sound). This means that a flight from London to New York will take just two hours, compared to the current time of about six hours and 45 minutes.
According to Kevin Bowcutt, Boeing's Chief Scientist of Hypersonics, in an interview with Aviation Week, the aim is to be able to get overseas and back in a day, and it will take a travel speed of Mach 5 to do this.
Taking into account possible setbacks and delays which will include meeting market, regulatory, and environmental requirements, Boeing hopes to have the aircraft in service sometime before the late 2040s. In preparation for hypersonic civilian flight, Boeing has unveiled designs for an intelligence, surveillance and reconnaissance (ISR) military jet which could take to the skies in 2023.
It seems Boeing may have competition in their quest for hypersonic flight. The Chinese Academy of Sciences is reportedly developing plans for a biplane with two layers of wings that will fly at Mach 5, taking two hours to fly passengers and cargo from Beijing to New York – 11 hours faster than the current journey time.
Until supersonic and hypersonic air travel arrives in the mainstream, private jet charters still offer passengers the fastest way to travel quickly and conveniently. The Cessna Citation X+ is currently the fastest private jet in the world and its dual-channel FADEC-controlled Rolls-Royce AE3007C2 turbofan engines shave hours off journeys compared to the fastest commercial airliners available.
Discover more of the world's fastest private jets with Air Charter Service by browsing our aircraft guide, and allow us to arrange a tailor-made and stress-free private jet charter for you.