Tour the Seven Ancient Wonders of the World
Thousands of years ago, travelers recorded the impressive sights they would see on their journeys. Seven of these made history as the Wonders of the Ancient World. Only the Great Pyramids of Giza still stand; the other sites were destroyed by fires, earthquakes, or looting. But experts can still give you a fascinating look into these architectural marvels.
You can visit the sites of the Seven Wonders of the Ancient World in the Eastern Mediterranean with a private jet charter and tour in ultimate comfort, on your own schedule. Let's take a look at each of them.
1. The Great Pyramid of Giza, Egypt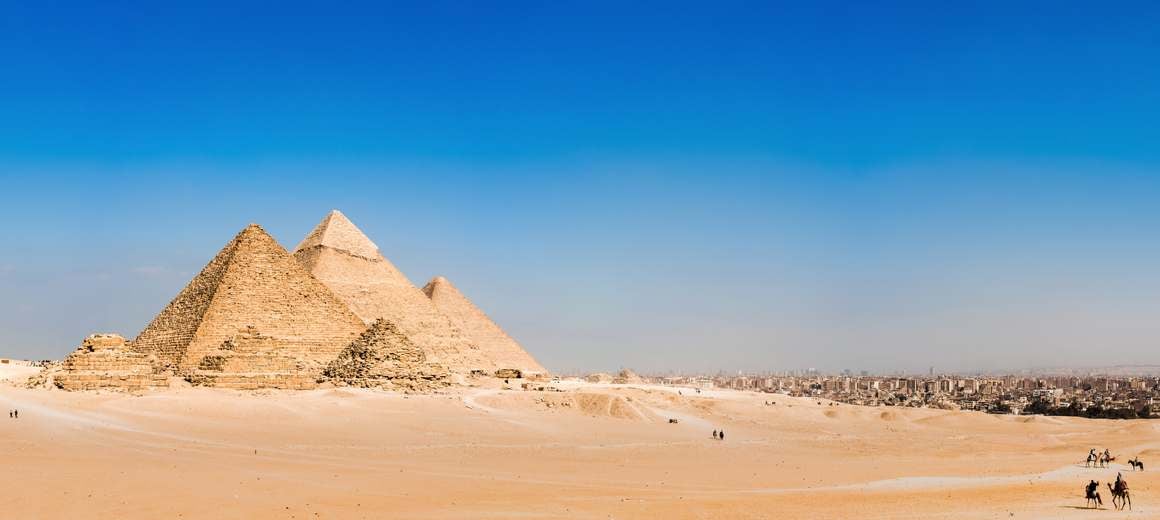 From Johnny Ward of One Step 4Ward:
"The six Pyramids of Giza are located in Cairo, Egypt. The largest of these, the Great Pyramid, was commissioned by, and built for, king Khufu. The pyramids were constructed around 4,500 years ago, with the Great Pyramid built around 2,550BC. Other pyramids and the Sphinx were built by subsequent pharaohs. The sheer size of these constructions – in light of the lack of technology in ancient times – has shrouded the methodology used to build them in mystery. The Great Pyramid of Giza was the largest man-made structure in the entire world until the 14th century. It consists of more than two million individual stones in its outer structure.
"From the capital city of Cairo, the pyramids are only about 15km (9 miles) away. There are a number of options to get there – it's possible to get a private taxi, public bus or one of many shuttle buses to reach the pyramids. A ticket is required to visit the pyramids and you can buy these at the entry/security kiosk to the site. If you have pre-booked an organised tour, the ticket will usually be included in the cost of the tour.
"Egypt has only two seasons: a very hot summer between May and October, and a mild winter from November to April. In the summer, the weather can be very hot, and the weather during the winter is much more pleasant. Therefore, it's a good idea to visit directly after summer finishes, or at any time during the milder winter period."
A private charter flight to Cairo International Airport (CAI) limits your exposure to other passengers, and is by far the most comfortable way to travel. You can get a private jet quote in no time at all. Then once you're in Cairo, book a private helicopter flight to discover some of the historic city's amazing sights and landmarks, before heading over to the Great Pyramid of Giza. It's an incredible sight to behold, especially from the air.
2. Hanging Gardens of Babylon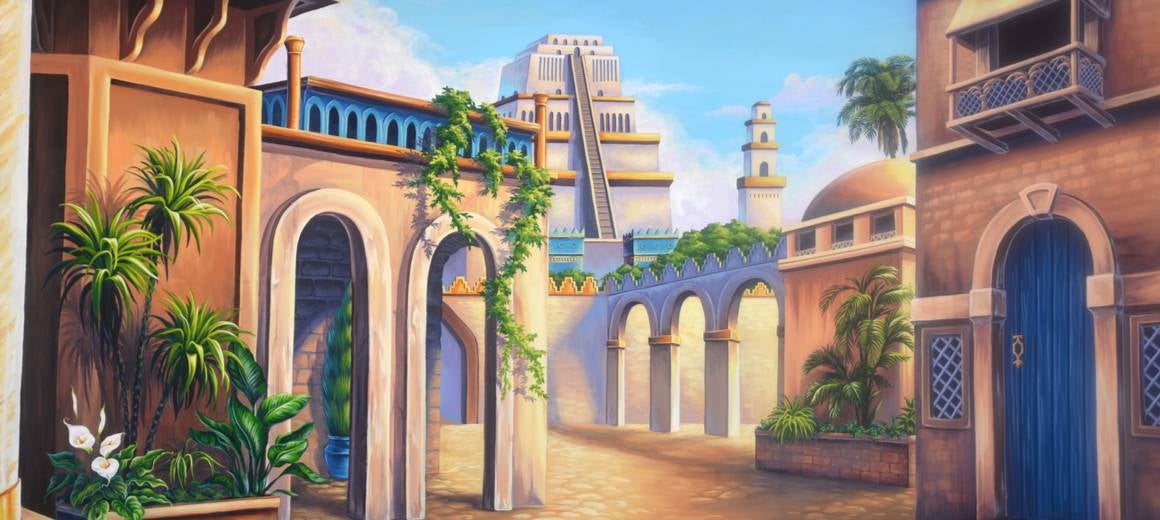 It's believed that 6th-century Babylonian king Nebuchadnezzar built tiered gardens of hanging trees and plants around his palace for his wife, who missed the lush vegetation of her homeland of Media in northwestern Iran. The palace and gardens are said to have been destroyed by earthquakes, but archaeologists and historians doubt their existence without any physical or literary proof. The first descriptions of the gardens were recorded by Greek scholars, who mention their location as the center of ancient Babylon, near what is now Hillah in Iraq.
The gardens' 'wonder' factor is said to come from the intricate irrigation system that brought water from the river Euphrates to the gardens in an area that was, and still is, completely arid. All that's left today of this ancient wonder of the world is parts of Nebuchadnezzar's palace and some of the old city walls.
The best way to get to the ruins of ancient Babylon is to book an aircraft charter to Baghdad International Airport (BGW). From there, take a taxi south towards Hillah, in central Iraq. The area is open to tourists, but check your Government's official travel advice policy before undertaking trips to Babylon. No tickets are needed to view the site.
The best time of year to go to Iraq is between November and April, when temperatures are milder compared to the summer months, with temperatures ranging between 16-21°C.
3. Statue of Zeus at Olympia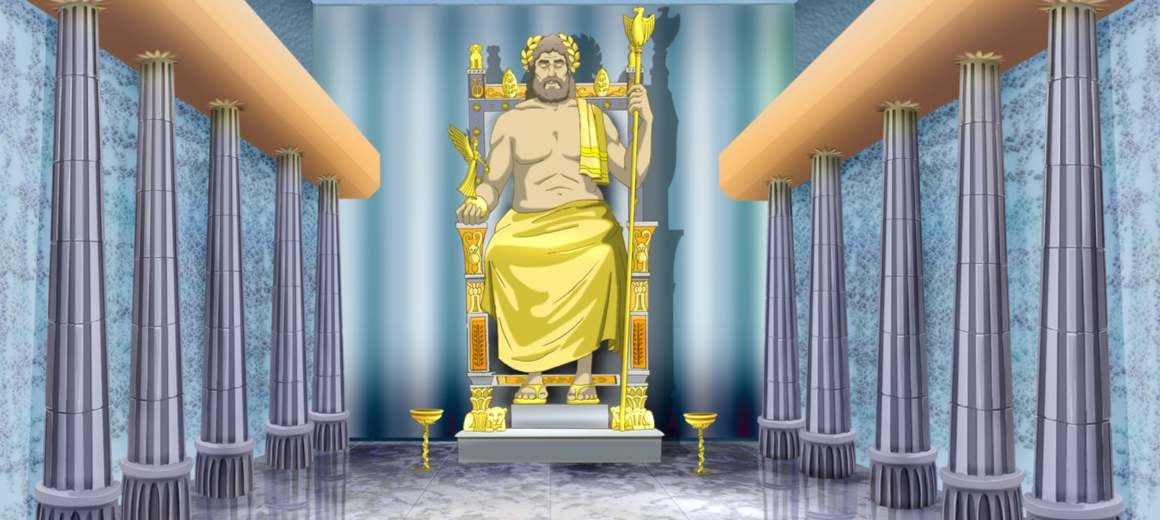 From The Fairytale Traveler:
"The Statue of Zeus at Olympia was built around 435BC, and was crafted by an Athenian sculptor named Phidias. It was created in honor of the most powerful and mightiest Greek God and the father of the Olympic Games, Zeus. Sadly, the statue is no longer there, and the circumstances of its loss and destruction are not truly known, but there are myths around what might have happened. Some say it was damaged by fire; others say it was ordered to be taken down. Either way, all that remains of the site now are rocks and debris. Olympia today is a small town in Elis on the Peloponnese peninsula in Greece.
"As there's no airport in Olympia, you'll need to drive from Patras (Araxos Airport; GPA) or Athens International (ATH). The Patra airport operates only in summer and is a small private jet charter airport and budget flight airport. Athens is bigger, and handles domestic and international flights all year round. From either city you can take the bus to Olympia or rent a car and drive there. The temple is at the corner of Amalias and Vasilisis Olgas.
"Tickets can be bought on site, at a cost of €12 ($14.40), and the site is open daily from 08:00 to 17:00. The busy season in Greece starts April (spring season), and ends in late October (fall season). I always tell people to hit a destination at the start or end of its busy season to get the best weather without the crowds."
4. Temple of Artemis at Ephesus
From Epicure and Culture:
"When visiting the ancient site of Ephesus in Turkey, there are a few buildings to see of particular importance. One of these is the once-gorgeous marble Temple of Artemis, dating back to the mid 6th century BC. It was dedicated to Artemis, the goddess of wilderness and fertility, though today all that remains are its columns and base. Still, with this framework, it's easy to picture just how magnificent and important this building was.
"When I visited, I took a tour from Kusadasi (a large resort town on Turkey's Aegean coast), and found that it was the main hub for visiting the ancient site, and there is no shortage of tour operators there. Many cruise ships also dock here and offer passengers tours to Ephesus.
"To enter Ephesus is 40 Turkish lira, though entrance to the Temple of Artemis is free. There are many local tour companies running excursions, and I recommend using one of them, as you won't need to worry about transportation, can get other local experiences included and gain a better understanding of what exactly you're looking at.
"The best time to visit Ephesus is spring (April and May) and fall (October and November), as this is when the weather is mildest. If you visit in summer – like I did – make sure to bring sunscreen, sunglasses, a hat and lots of water so you don't get dehydrated."
5. Mausoleum at Halicarnassus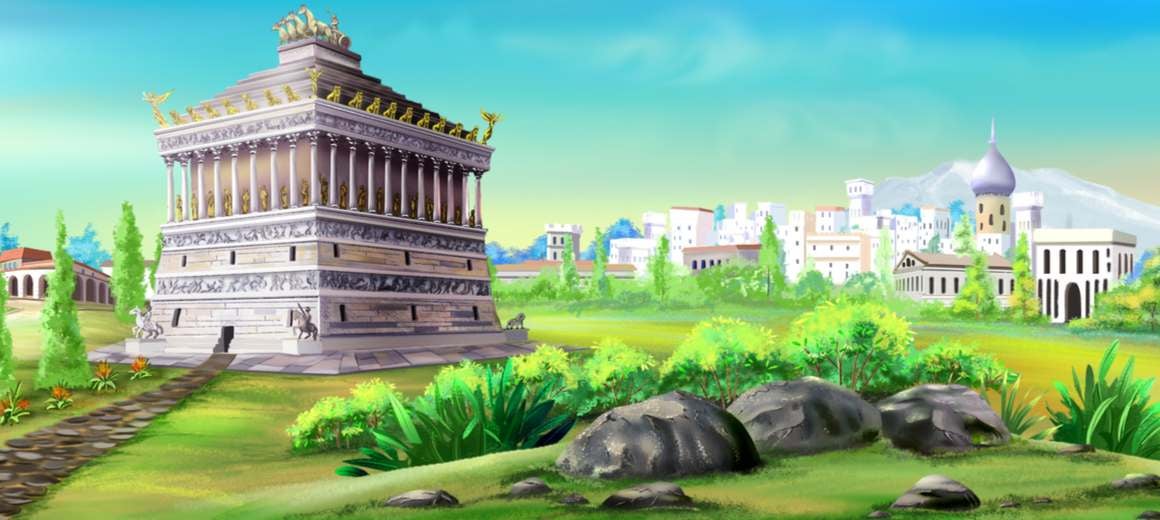 This tomb was built by Greek architects around 353BC to entomb the remains of the Persian King Mausolus and his wife, Artemisia. The tomb, standing 135 feet tall, was placed on a hill that overlooks the ancient city of Halicarnassus, near modern-day Bodrum in Turkey. It includes elaborate statues and columns, decorated with marble and gold. The mausoleum was destroyed by earthquakes between the 12th and 15th centuries, and only its foundation remains today. Since its structure is so ornate, the term 'mausoleum' was coined to refer to any impressive above-ground tomb.
The best way to get to Bodrum is to fly to Istanbul. Istanbul Airport (IST), Istanbul Atatürk Airport (ISL), and Istanbul Sabiha Gökçen International Airport (SAW) all accommodate private plane and charter flights, with SAW offering a separate private aviation terminal for smooth discreet transfers from your private plane rental to ground transport.
From there, you can take another flight or a bus to Bodrum. The archeological site is usually open Tuesday to Sunday between 10:00 and 17:00, and a ticket of 8 YTL (about $1) is required to enter the site.
The best time of year to visit the site is between November and April, when the temperature is moderate, between 16-25°C. Summers are very hot, and temperatures can reach a high of 35°C.
6. Colossus of Rhodes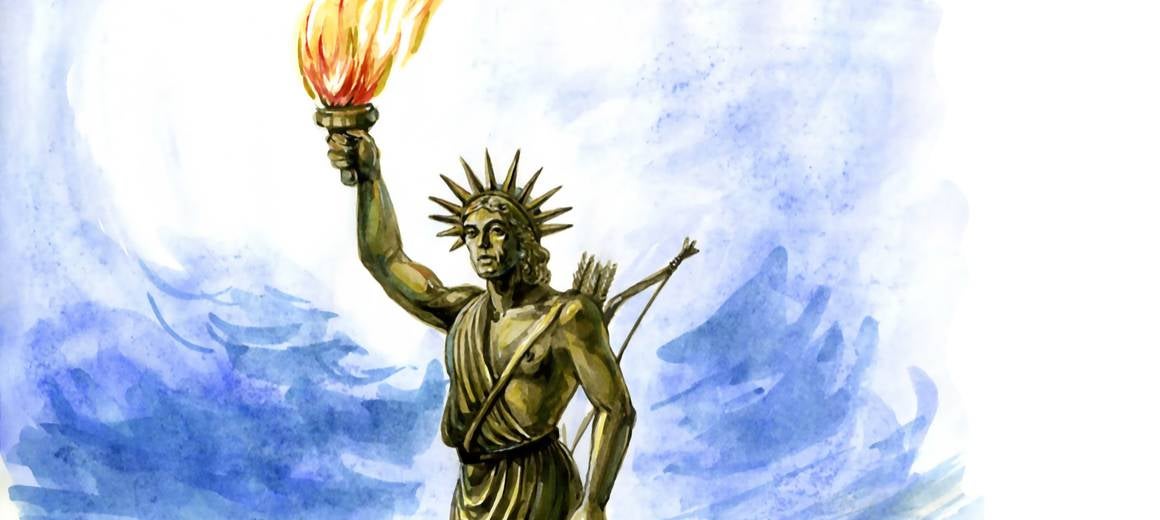 From David's Been Here:
"The Colossus of Rhodes was a statue of the Greek titan-god of the sun, Helios. It was erected in the city of Rhodes, on the island of the same name (the largest of Greece's Dodecanese islands), by Charles of Lindos in 280BC. It was constructed to celebrate Rhodes' victory over the ruler of Cyprus, Antigonus I Monophthalmus, whose son unsuccessfully besieged it in 305BC. Before its destruction in the earthquake of 226BC, the Colossus of Rhodes stood more than 98 feet (30 meters) high, making it one of the tallest statues in the ancient world.
"The best way to get to Rhodes Town is by flying from Athens to Rhodes Island, which has its own international airport (RHO). You do not need tickets to see the site.
"The best time of year to go to the Colossus of Rhodes is April through October. The weather is mildest in April, May, September and October. June, July and August are extremely hot."
7. Lighthouse of Alexandria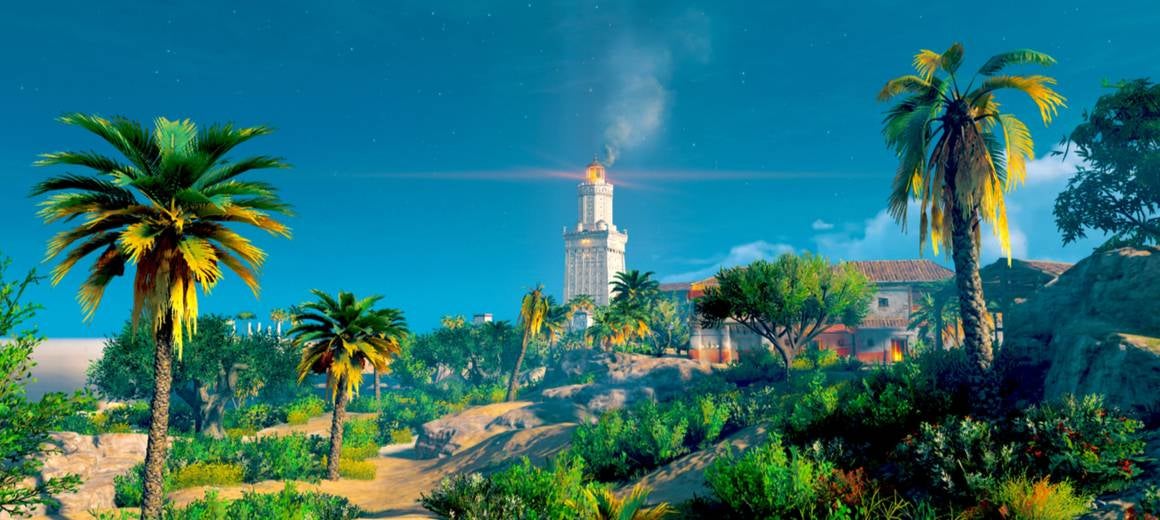 The Lighthouse of Alexandria, also known as the Pharos of Alexandria, was built in the Hellenistic period around 250BC at the mouth of the harbor in Alexandria – a Mediterranean port city in Egypt – to guide sailors home. It measured between 383ft and 450ft high (117m and 137m), and was built with a light-colored stone. A mirror at the top reflected the sunlight during the day, while a fire was lit at night to give off light. The lighthouse was destroyed by three earthquakes between 956 and 1323, and remained a ruin until 1480, when stones on the site were reused to build Fort Qaitbay on the same site.
The best way to get to Alexandria is to fly to the main airport, Borg El Arab Airport (HBE), which has a runway that can accommodate even heavy private jets, if you're traveling in a larger group. From here you can take a taxi, train or bus to the harbor. Car hire is also available from $40/day. As the 15th-century fort is now a maritime museum, entrance costs around $35 for adults.
The best time to visit Alexandria is between the spring months of March through June, and the fall months of September through November. It's best to avoid Alexandria in summer, when locals come to the town in droves to escape the heat of Cairo.
Charter a plane to visit the Ancient Wonders
With a wealth of historical knowledge attached to these sites, you can learn a great deal about the ancient civilizations that once inhabited these areas, but with Air Charter Service (ACS), there's no need to leave your modern comforts and luxury behind. Contact us to find out how a private jet charter can deliver an unforgettable travel experience. Accessing the Wonders of the Ancient World has never been easier.